The Mark
Downtown Condos Available in mid-2018
On A Smartphone ?
Click on Photo to Enlarge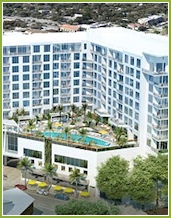 Another luxury condominium is being built in downtown Sarasota. The Mark will be a mixed-use tower with 157 residences for those who want to live, work and play in the center of all the Downtown Sarasota action.
The white modernist building, designed by Hoyt Architects is planned to open in 2018 and will have 35,000 sq. ft. of upscale dining and shopping on the ground floor. Above that will be 3 levels of office space and parking.
The residential portion of the building will start on the 5th floor where there will be a resort-like "outdoor living room" with a heated pool, cabanas, conversation areas and a fire pit. The top floors of the 12-story structure will have 157 condominiums ranging from 1,377 to 2,940 sqft. priced from about $760,000 up to about $2 million. Most units will be priced at less than $1 million. These innovative condos will offer open floorplans with 10 and 11 foot ceilings with expansive terraces with glass railings for indoor-outdoor living and city views. Other amenities will include a catering kitchen, residents' club room, state-of-the-art fitness center and secure parking.
The Mark offers 39 floor plans in various floorplans starting with residences with 1 to 3 bedrooms and 1.5 to 3.5 baths in 1,439 to 2,346 sqft. and others with 2 to 3 bedrooms and 2.5 to 3.5 baths ranging from 1,571 to 2,346 sqft. There will also be Penthouse Residences with 2 to 3 bedrooms and 2.5 to 3.5 baths in up to 2,960 sqft.
Bob Vail, president of The Kolter Group's Urban Division said at the opening of the sales office, "The Mark will be for buyers who are moving off the keys or in from the eastern subdivisions who want the world-class recreational & cultural amenities of downtown Sarasota. People want to stay much more active much later in their lives. They can'thave that out in the suburbs where you have to get in your car to get to all that's available downtown." "Cities like Sarasota are in short supply of residences like The Mark," he added.
Perhaps you, too, should come experience our downtown Sarasota lifestyle.